One of the most common questions I and Tess get when it comes to planning trips is our choice of accommodation. We're not the type to spend a lot on hotels or five-star resorts so we're always looking to get the best value for our money; we'd rather spend on food, attractions, and experiences on our holidays. But at the same time we also want to find a place which will give us enough comfort and quiet at the end of each day of sightseeing. To meet both requirements we often use Airbnb. For us another good reason to use the said website is, more often than not, it allows us to find accommodations which make us live like one of the locals. It's nice to be able to interact with our host (if they're living in their rented property) and see a neighborhood you otherwise wouldn't be able to explore if you're cooped up in a hotel.
It's been quite a while since I booked a hotel for my trips so it's safe to say that I use this platform a lot. The way it works is that it connects travelers looking for accommodation to people who are renting out their properties ranging from condominium units, rooms, villas, apartments, etc. You have to sign up and enter the necessary information including your credit card details which will be used as mode of payment. Even without an account you can already start to explore the accommodations available so if you're not yet sold on using Airbnb you can just browse through the available options. Just go to http://www.airbnb.com and enter the location, dates of stay, and number of guests to get availability and total cost of stay.
I can honestly say I've only had maybe three misses out of all the times we've booked through the website. I'll show you some of the memorable places we stayed at which really provided us with comfort, great experience, and good value.
1. Tokyo, Japan
This is a no-frills listing in a very quiet neighborhood. Me and Arnaud really felt like locals in this residential part of the city. The mother and son who own the house are very friendly and even lent me a winter coat as that spring day was exceptionally cold. We were greeted with some tea and dried fruits as we arrived. The supermarket nearest to the flat is not actually that near, but it had a lot of stuff worth looking. Near that grocery there's a pachinko shop (couldn't take the machine noise!) and a takoyaki place where we had really exceptional takoyaki together with some sakura Suntory cocktail. Yum!
2. Kuala Lumpur, Malaysia (listing no longer available as of writing)
This place was affordable, considering there were five of us staying. The condo unit has two bedrooms and two bathrooms, a huge living room/dining area and a kitchen. There's a hawker center right across the street which sells delicious Malay, Chinese, and Indian food. Fresh roti in the morning is the best. The amenities of the building made us feel like we were staying at a hotel. Aside from the outdoor pool they had an indoor one with a skyline view of KL. Not too shabby.
A 5-star view from the pool
3. Florence, Italy
There was no lift which was a bit challenging for my parents, but the flat overlooked a piazza which had nightly performances. A glass of proseco was all we needed to relax at the end of the day. There were three rooms and two bathrooms, which suited our family of four. Even if the apartment wasn't perfect it was in an area of Firenze that was quiet and relaxing. The Santa Maria del Carmine is on one side of the piazza and is worth a visit. In the area you can find a pasta shop, supermarket, bakery, and other establishments.
The living room also had an extra bed
4. London, England
Luckily, we checked in on a Saturday and had the chance to check out the Portobello Road Market. A small supermarket, as well as various shops and restaurants, were close by. The area was quiet and had a little balcony with a nice view. It was an indeed home away from home. The flat was clean and had everything we needed, except dry towels. The guests before us used more than expected. Pffft.
Close to Portobello Market
5. Seville, Spain
What looked like a sleepy neighborhood came alive for tapas come early evening. There are many food places to choose from and the energetic vibe is infectious. We were also just a short walk away from the lovely Basilica de la Macarena. There's a little convenience store and a fruit and vegetable shop near the plaza, where Tess and I stumbled upon an open-air screening of shorts one night. The little dining area with the sunroof is a nice place to have breakfast. And I still can remember the delicious coffee that was in the cupboard which we brewed every morning. 🙂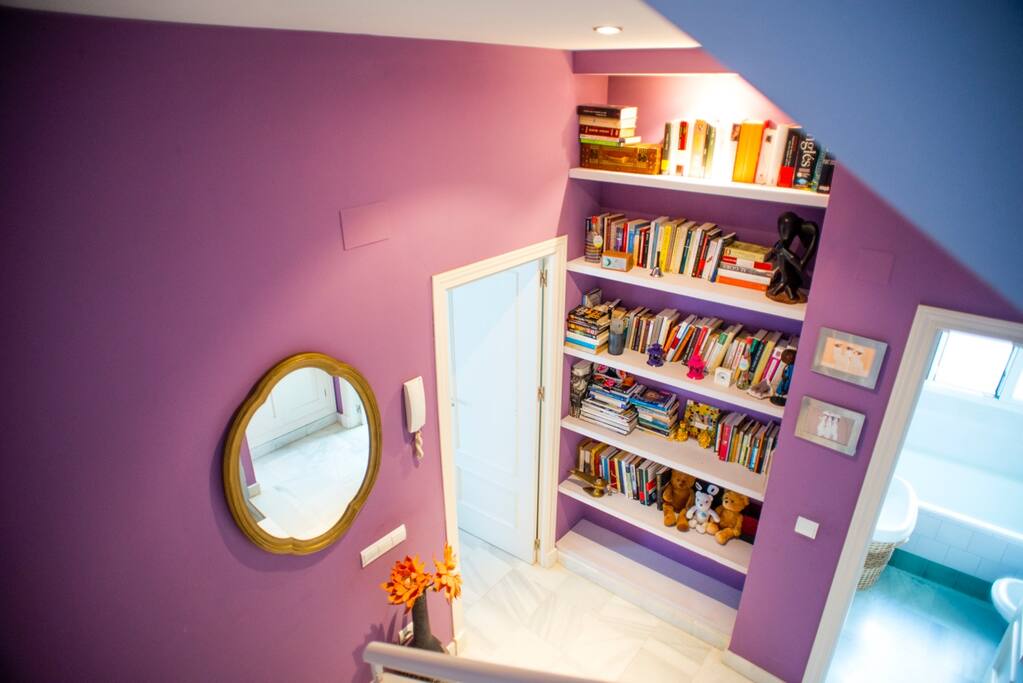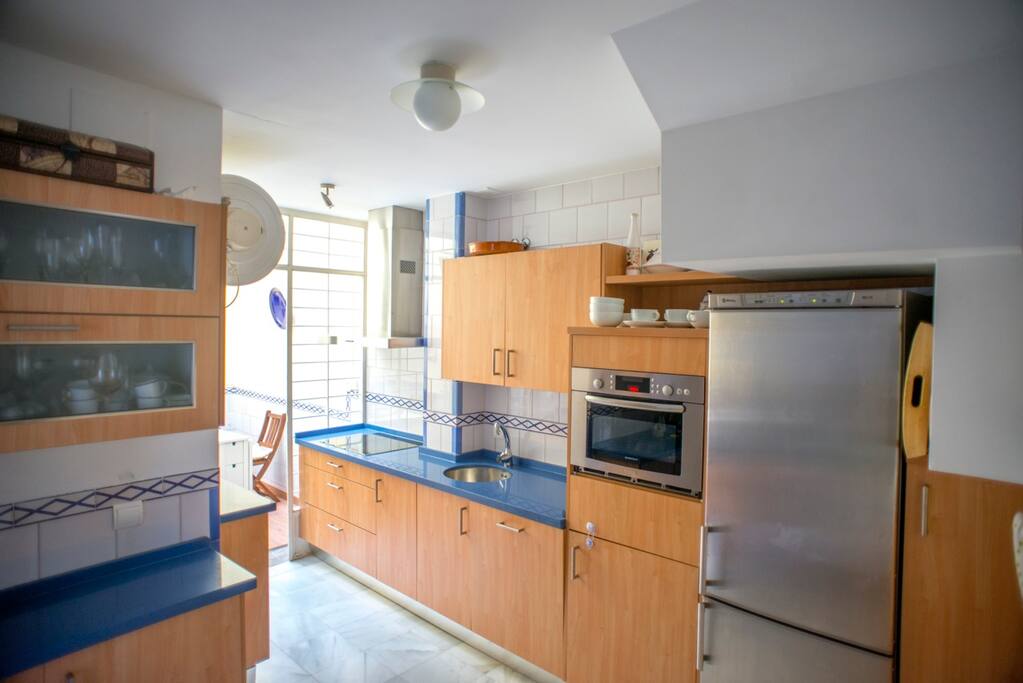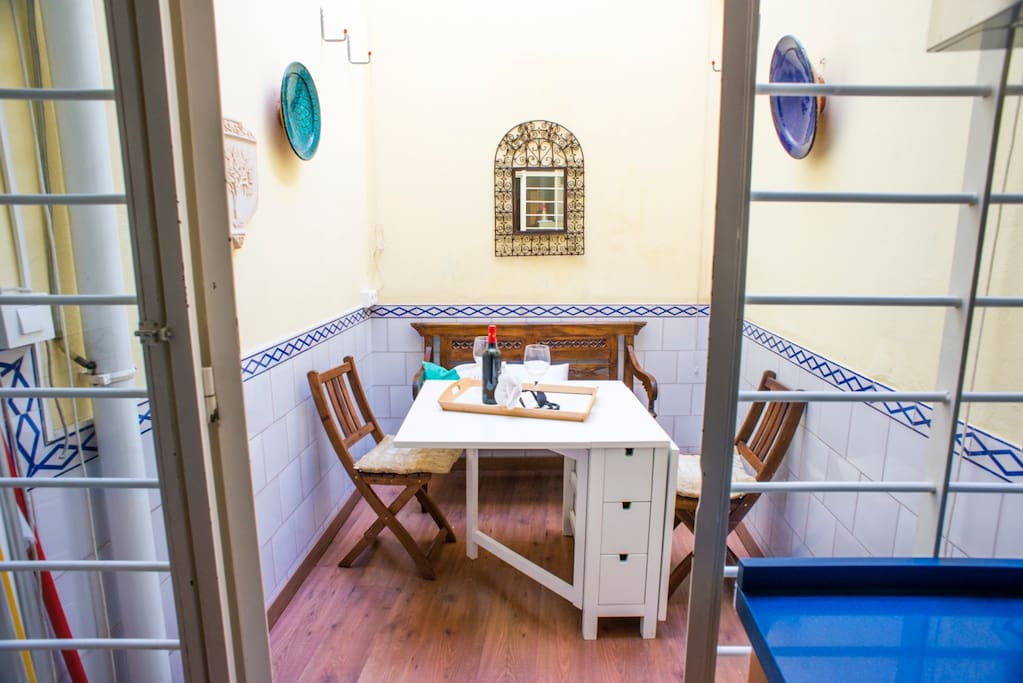 Our breakfast nook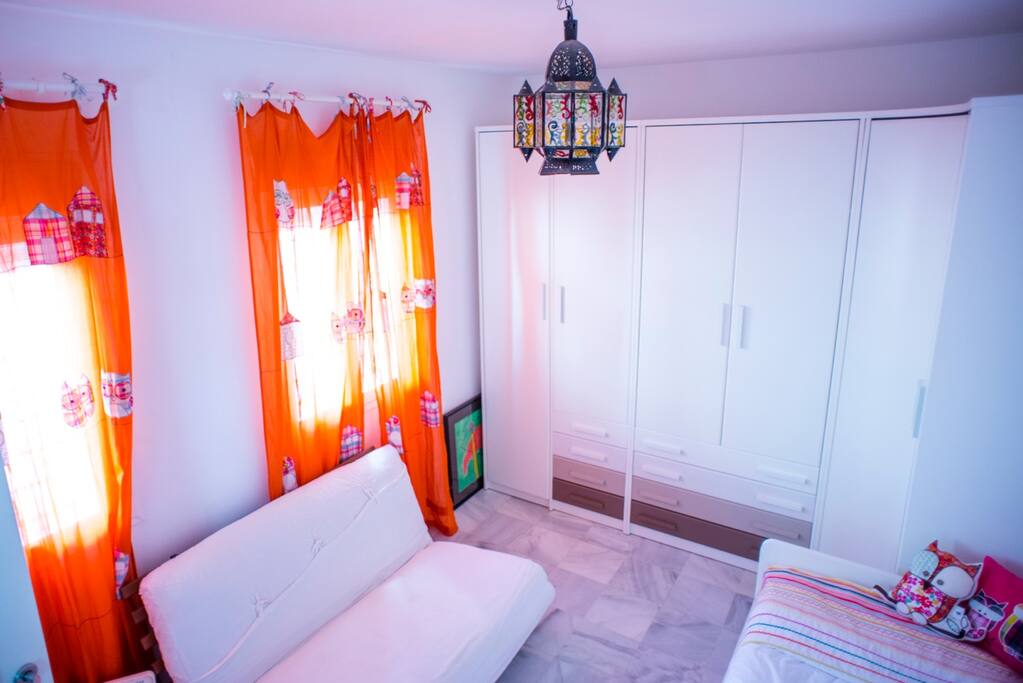 6. Rome, Italy (listing no longer available)
The flat was modern and located in a quiet neighborhood, which is always a relief at the end of every sightseeing day. There were guidebooks left for us to use and the kitchen had the basic implements and ingredients we needed. It's near a small but well-stocked grocery, tabacchi (tobacco shop where you can also buy train and bus tickets) , pizzeria, and bus station. There's even a public water fountain right outside the building. 😀
7. Charleston, SC, USA
Tess and a friend stayed at this quiet, beautiful, and comfortable Airbnb listing which gives you a feel and flavour of Charleston. It is very convenient as well, since downtown and Folly Beach are easy drives from the property. There are restaurants and shops nearby. The rooms were a good size, and coffee and water were very nice touches. Tess loved opening her French windows in the morning and hearing the cicadas outside. PJ, the host was warm and helpful and gave some good suggestions on places to eat and visit.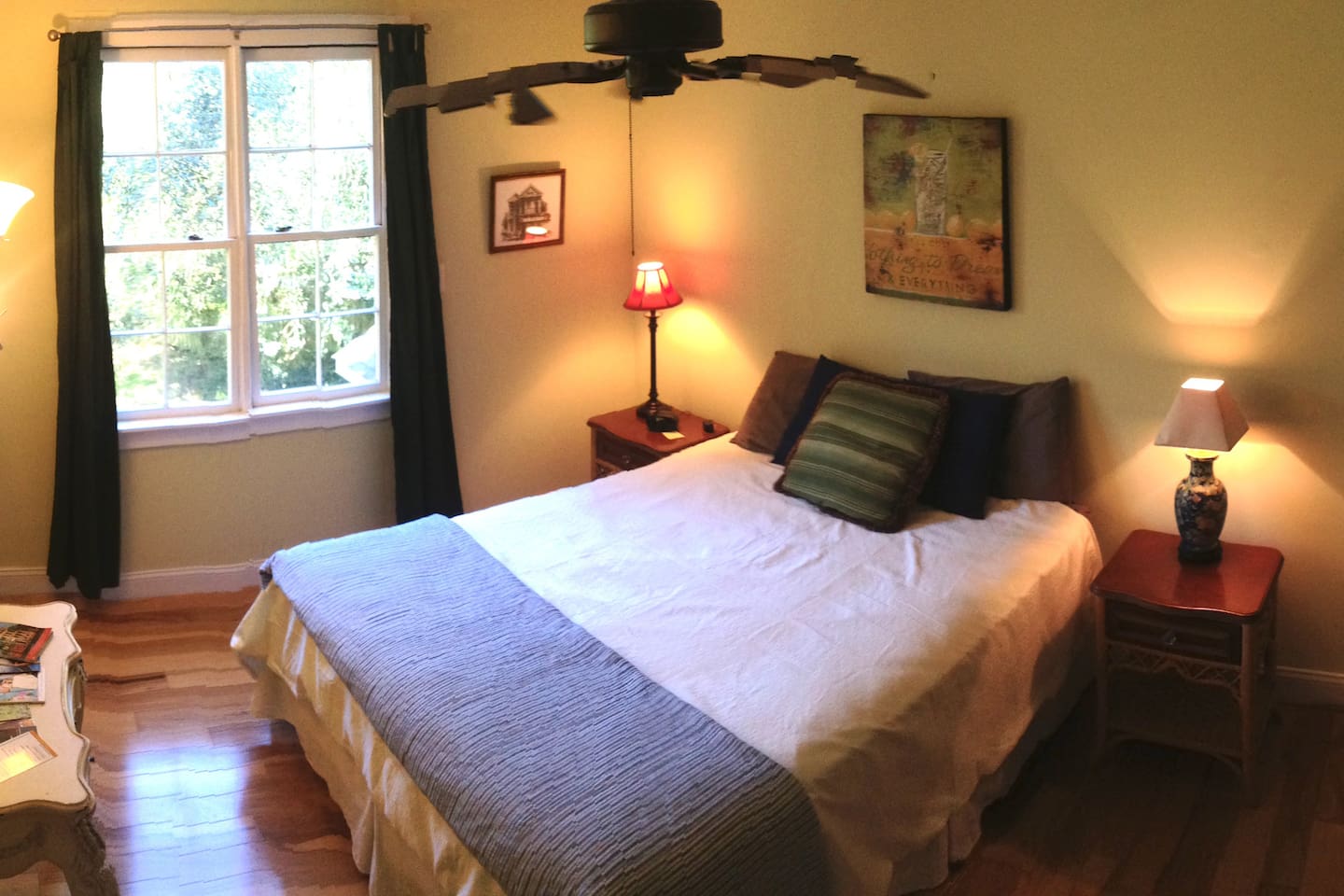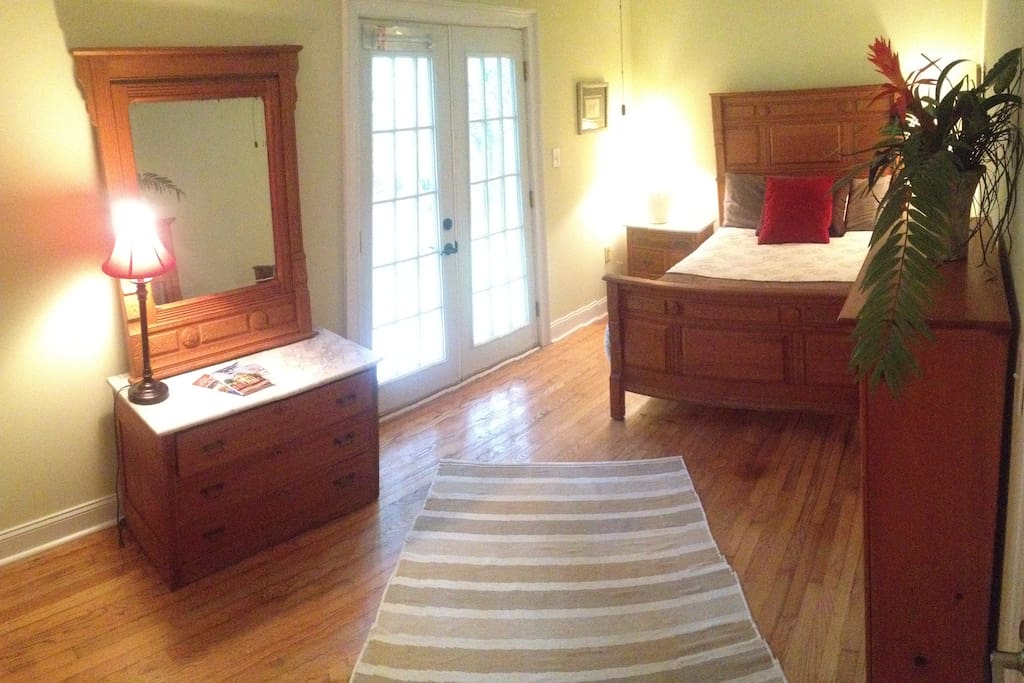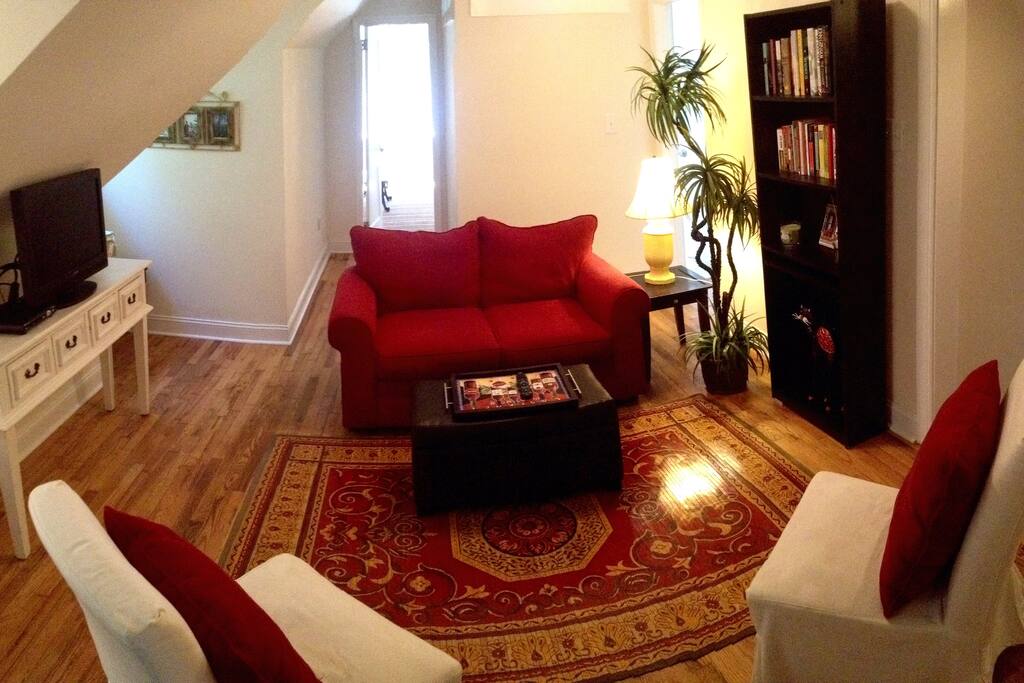 8. Taipei, Taiwan
Our host Chennie was a very helpful and accomodating one. The flat was comfy and large enough for our group of five. It was very accessible (close to the metro and Chiang Kai Shek Memorial Hall). Nanmen Market was nearby, as well as other food shops (great food at a great price!). Check listing here.
To be able to maximize your search on Airbnb here are some tips:
Look at the photos. Yes, this tip is obvious but some owners don't put a lot of pictures and sometimes there are none of the unit they're renting, just the other parts of the property. Be wary of that. Also you'll be able to see the quality of the sleeping arrangements and the bathroom! That's one of our important considerations. After all, the two important things you need an accommodation for is sleep and personal hygiene.
See the amenities available. Each listing includes a rundown of things that the unit or the property's building will be able to provide. Here you'll be able to see if you don't need to bring toiletries or towels or if you need a lift for you and your travel companions. Wi-fi, presence of pets, and other things you need to know are listed here so take some time to read.
Contact the host. If you have any questions which cannot be answered by the listing, don't hesitate to send the host a message. I prefer also if it's the unit owner himself who answers my queries instead of an employee who has been hired to manage the listing. These days there are companies who run and take care of several Airbnb listings and based on experience the responses we get are not as fast and personal. This doesn't go for all of them though, so just get a feel of how the host/contact responds to your questions to know if you'll be comfortable booking with them.
Read the reviews. It can be tedious, yes. But it tells you a lot of things you need to know about the owner, the rented unit and its accessibility, the neighborhood, etc. Of course, reviews aren't everything. I remember the last booking I made where I read a lot of good reviews about the owner and the place but when we got there we found a messy living room, and they somehow neglected to tell us that the gate to the apartment was some kind of Crystal Maze challenge that's hard to open. The place wasn't that horrible but I could've chosen something better in the same price range. The point here is that the reviews serve to validate (or refute) the reliability of the property photos.
Don't be afraid to explore new listings. This sort of is contradictory to the last tip, but you may miss out on good properties if you avoid new listings altogether. Again, contact the host and ask as many questions as needed, and be guided by the other tips mentioned above.
Check the map for the Airbnb's location. If you prefer to stay in a certain part of town then don't forget to take a look at where the property is located. If you prefer to be in the thick of the action or somewhere more laid back is all up to you.
Those are some of the tips that we have for you regarding booking with Airbnb. You can give it a shot and see if you prefer it over your usual accommodations. Good luck! 🙂